Smelting is a process of applying heat to a metal ore in order to extract the base metal. In the case of aluminium, bauxite is converted into alumina in a facility called refineries and then alumina is transformed into molten aluminium in the smelters. Aluminium production in smelters consists of two process – Primary aluminium production where alumina is smelted to pure aluminium and secondary production is the process of recycling aluminium scrap into aluminium to be used again.
There are three ways to look at aluminium production – country wise production, company wise production and plant wise production.
TOP 10 LARGEST ALUMINIUM PRODUCING COUNTRIES 2020
China dominates the aluminium production in the world, with 55.6% of overall market share in this domain. Most of the large aluminium smelters are located in China itself. After China, India, Russia and Canada are top aluminium producers with companies like Vedanta, Rusal, Rio Tinto etc.
TOP 10 LARGEST ALUMINIUM COMPANIES IN THE WORLD 2020
There are 5 companies from China in the list of top 10 aluminium producers in the world with Aluminium Corporation of China (or popularly known as Chalco) being the leader of this list. Apart from these Chinese companies, other top companies involved in aluminium production are Rusal, Rio Tinto, Alcoa, EGA and Hydro. All these companies have their own mining, refining, captive energy sources to support the production as well.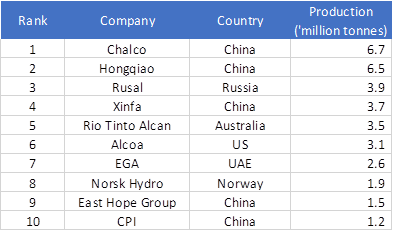 TOP 5 LARGEST SMELTER PLANTS IN THE WORLD 2020 – CHINA

TOP 5 LARGEST SMELTER PLANTS IN THE WORLD 2020, EX-CHINA

Other notables smelters plants with significant production capacity (ex-China) would be – Samalaju, Malaysia (Press Metal Samalaju), Ras Al Khair, Saudi Arabia (Ma'aden Aluminium), Richards Bay, Hillside, South Africa (Hillside Aluminium) etc.