To make the best choice from an environmental perspective we need to look at the carbon footprint, recycling, end of life waste and transportation.
(A) Carbon footprint of glass vs plastic vs aluminium
This table summarises different estimates (high, medium and low) of the carbon footprint of each material: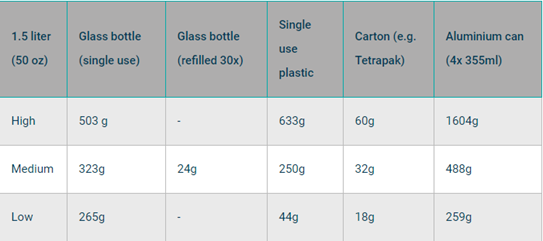 (B) Recycling of bottled beverage materials including glass, plastic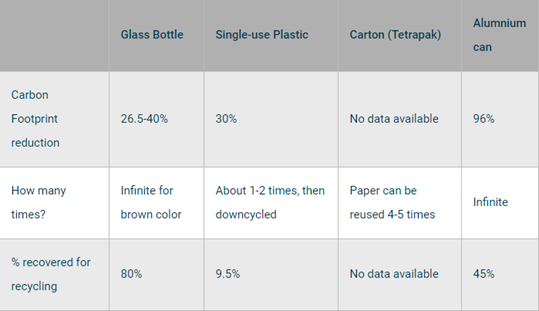 If aluminium cans are made of 100% recycled material the carbon footprint will be 96% less and thus similar to refilled glass bottles. However, as only 45% of cans are recovered (in the US) the real carbon footprint is much higher. In countries such as Germany and Sweden with deposit schemes the recovery rate is much easier higher and therefore aluminium can be an environmentally sound choice.
Until recently recycled plastic bottles were rarely made into beverage containers again. Instead they were downcycled into other plastic goods. On average less than 20% of a PET bottle produced in Europe is made from recycled plastic. With better materials and manufacturing the big beverage makers are now changing this but the change is slow and the efficiency will vary by country.
(C) Transportation of bottled beverages Transportation is often what makes glass the losing material. Not only does it have to be transported to the bottling facility and then to the consumer. Once consumed it has to be collected and transported back to the bottling facility. A 500mL glass bottle weighs about 400g, but a comparable 500mL PET bottle, aluminium weighs about 10g. While that might add up to a little annoyance for the consumer, that 40 to 1 weight ratio is a very big problem for manufacturers and distributors. It means more wear and tear on packaging machinery, less efficient shipping and distribution, and, as a result, higher fuel costs and emission responsibility. The summary table in this article assumes local bottled water transported a short distance to avoid distorting the data.
(D) Waste Management of glass vs plastic vs aluminium The last but not least is what happens at the end of life of each material if it's disposed of on a landfill, nature or ends up in the oceans. It's painfully clear today that even though plastic might have lower carbon footprint than glass the biggest polluter is plastic. We talk about plastic pollution in our oceans and not glass or aluminium.
(E) Conclusion Here's the list in order from best to worst:
No container
Refillable glass bottles
Recycled aluminium cans (depending on country)
Recycled or non-recycled single-use PET (in countries with good recycling systems)
Single use glass bottles
It should be noted that this is simplified. In countries that have a poor recycling system, single use glass bottles tend to be better for the environment. Also, the carbon footprint of glass vs plastic and aluminium differs between products, countries and other circumstances.